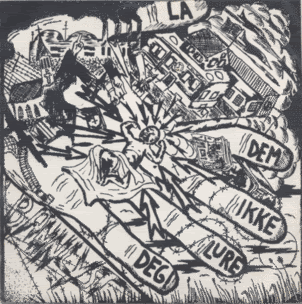 The steam rises as the guitars grind out an echoing assault of streamlined abrasive action and raging speed. This is Bannlyst, an extreme thrash attack from Norway, with crushing vocal growls that melt in with the punching spurts. Slaughtering slices of brutal energy invades the senses as Bannlyst's La Dem Ikke Lure Deg EP outbreaks into a sonic raid of quick riffs and a boiling wrath of combustion. Comes with English translations of all lyrics, and a nice packaging effort. Bannlyst snap and growl in full exhilirating inertia on this excellent 7 song EP. Has an appeal for both crowds, it's fast and efficient! On X-Port Plater.
-Pushead for Puszone, May 1985)
Bannlyst - La Dem Ikke Lure Deg 7"
(192kbps)